Needit School Okul yönetim sistemi
Tek bir platformda İhtiyacınız olan her şey
Spider network size yenilikçi bir platform sunar. Kuruluşunuzun tüm süreçlerini yönetmek ve merkezileştirmek için Needit school ile daha iyi kararlar verin ve zamandan tasarruf edin. Bu yenilikçi çözümle, senin okulun tüm işlevlerini şeffaf bir şekilde kontrol ve senkronize edebilirsiniz . Needit gerçek bir iş bilgisi yönetişim aracıdır. Çözümümüz , veri merkezleştirme ve sürdürülebilirik ihtiyaçlarınızı karşılar.





Digitize your school
Spider network offers you an innovative platform to manage and centralize all the processes of your school. Make better decisions and save time with Needit school. With this innovative solution, you control and synchronize all the functions of your school in a transparent way, from registration to assessment to the issuance of diplomas, including invoicing and payment monitoring.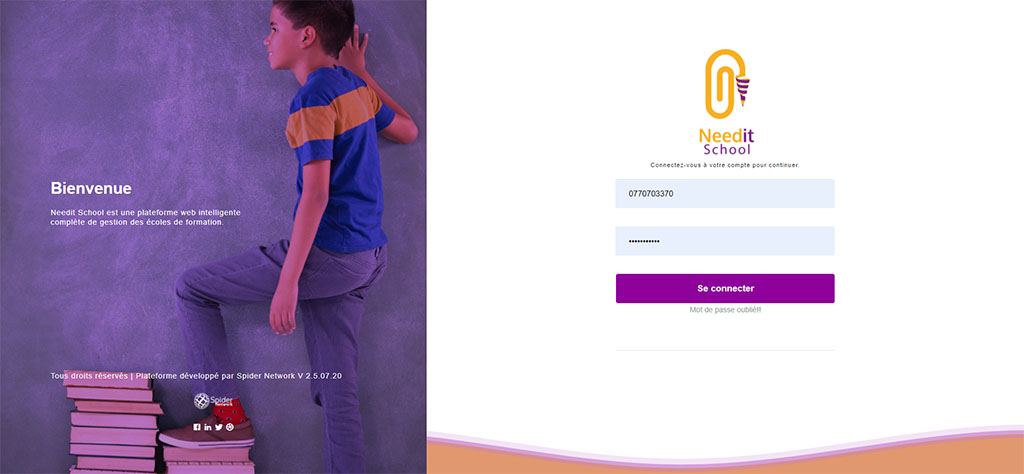 حولوا مدارسكم إلى مدارس رقمية
  نقدم لكم منصة مبتكرة لإدارة وتسيير كل عمليات مدرستكم ، اتخذوا قرارات أفضل ووفروا الوقت مع  باستخدام هذا الحل المبتكر، يمكنكم التحكم في جميع وظائف مدرستكم وتزامنها بطريقة شفافة من التسجيل إلى التقييم، إلى منح الشهادات،  ومن  تسييرالموارد البشرية  إلى وضع الفواتير وتتبع المدفوعات، كل هذا فى منصة واحدة.
أحصل على نسختك إبتداءا من $135